The VegTrug™ Patio Garden with Covers is created with sustainable fir and is designed to last for a very long time. It has a height of thirty-one inches, which makes it convenient to use. There is no more need to bend or kneel just to plant your garden. Even people in wheelchairs can use it with ease.
The VegTrug™ Patio Garden with Covers includes a built-in drainage and a fitted membrane liner. It is perfect for gardening on patios or decks. It even has a unique V shape that will let you grow plants with deep or shallow roots. It also has just the right height to keep pets, slugs, and rodents from reaching it.
If you are worried about ruining your deck boards or floorboards, worry no more because the product has feet covers. It also includes pre-formed liners. It is easy to set up and can be covered or netted if necessary. You can install the polyethylene micromesh cover to protect your crops against birds, insects, and strong winds.
The set includes a frame and a greenhouse cover. You can install its twenty-one-inch steel frame with push-fit connectors in just a few minutes. Assembling the whole thing only requires an adjustable wrench and a Philips screwdriver.
The greenhouse cover is made with reinforced polyethylene and features heavy-duty zippers and stitching. In addition, it has sturdy Velcro tabs and it zips open for quicker access to crops and ventilation. If you wish to use an additional cover, frame, liner, and trellis, you can purchase these add-ons and accessories separately.
Product Features and Specifications:
Winner of the 2012 Green Thumb Award for Outstanding New Product
Certified by the Forest Stewardship Council (FSC)
70 inches long, 30 inches wide, and 31 ½ inches high
Holds three hundred and eighty quarts of container mix
Comes in two sizes:
VegTrug™ Small weighs 46 pounds, has a soil volume of fifty-five gallons, and has a planting depth of 13 inches
Product Dimensions: 39.4 x 30.8 x 31.5 inches
VegTrug™ Medium weighs 61 pounds and has a soil volume of one hundred and ten gallons
Product Dimensions: 70 x 30.7 x 31.5 inches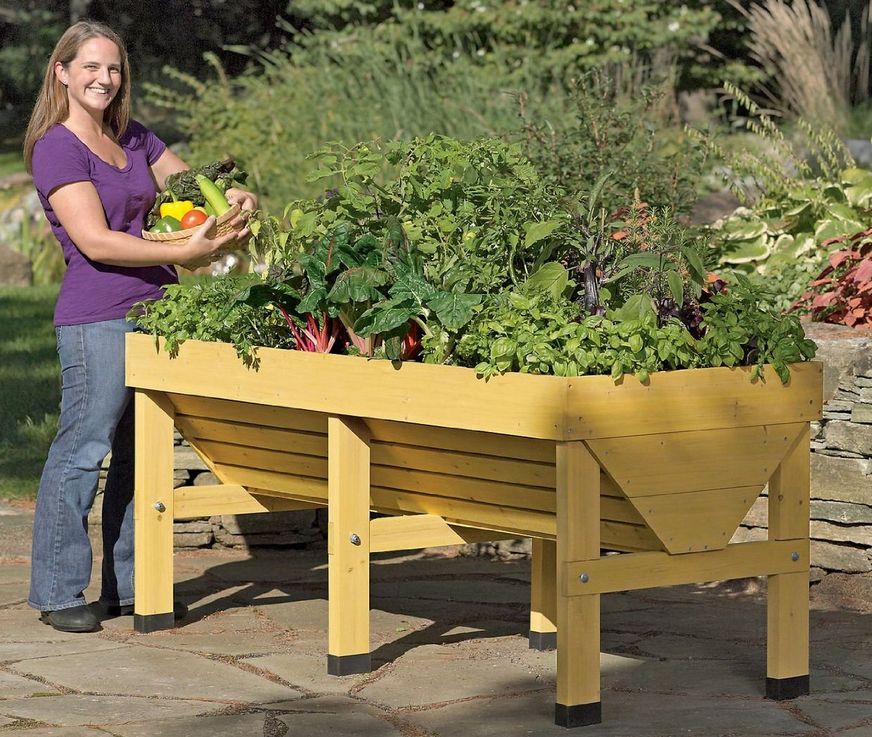 The Reviews:
The buyers of this product were happy about its good quality, functionality, and affordability. In fact, their reviews were very positive. They liked the fact that the VegTrug™ Patio Garden with Covers allows users to garden with ease and convenience. They also approved of its elevated bed since it can prevent weeds and pests from destroying the plants.
In addition, they said that they like the V shape because it allows users to make the most of the available space, as well as mix plants. For instance, you can grow tomatoes at the center and crops with shallow roots at the edges. The customers also found the fitted fabric liner highly useful since it keeps the soil in place while eliminating excess water.
There is hardly any negative review about the VegTrug™ Patio Garden with Covers. Nearly every customer is delighted with the product. Most of them even said that they are likely to purchase another set again.